You are hereBase Station Systems for Two Way Radio & Industrial Work Sites Mining Drilling Oil Gas
Base Station Systems for Two Way Radio & Industrial Work Sites Mining Drilling Oil Gas
---
We design Two Way Radio Base Station consoles for Dispatch and Emergency Operations. Sourced from a variety of models and manufacturers,
our most popular brand is Samlex; a company known for quality Mobile Radio Solutions and accessories. Most of our Base Stations ship as a complete kit, including a Samlex Power Supply, customized casing and chassis mounting, as well as cooling fans, indicator lights, anchor points and pre-fabricated holes for power cords. Additional rear accessory holes are also available for antenna cables and rear mounted mic cables. Samlex builds a chassis or base design for nearly every brand of Mobile Two Way Radio.
Each Samlex unit is nicely polished with a Black grain, non-corrosive finish that will last the test of time. Harness the power of the ICOM Product line into each Samlex Case for a combination of two quality components that compliment one another.
Timberline Radio Systems Ltd., is pleased to supply the Samlex line of base station cabinets and power supplies - built to last in even the harshest of environments.
Call us for more information on the Samlex Product Line:
Timberline Radios Systems Ltd.
#1201-11871 Horseshoe Way
Richmond, BC V7A5H5
Tel: 604-290-3915
ICOM 5032H Land Mobile/Base VHF Radio

Timberline Radio Systems Canada is proud to present ICOM's Next Generation VHF and UHF Land Mobile Radios. The IC F5023 is one of ICOM's Top Notch VHF Land Mobile Rigs yet! With a Robust Front End Receiver and "Tough as Nails" Transmitter, this "Fixed in Mobile" will go anywhere and do anything you need it to! Complete with all the bells and whistles, this Military Grade Mobile is cost efficient and reliable today, as it will be in ten years. ICOM Built it to last and we've put it through the test in some of the most rugged conditions yet!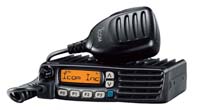 Built for use in the Commercial Environment, this radio is used by the BC Forest Service, Fire Departments, Logging Operators, Highway Truckers, Miners, Forestry Workers, and Oil & Gas Companies throughout North America.
Main Features Include
128 memory channels (max) separated into 8 memory zones
Built-in 2-tone, 5-tone, CTCSS and DTCS capabilities
Kill/stun functions disable a lost or stolen radio over the air
6 programmable buttons allow customized operation
Rugged construction, meets MIL 810F standard
50W output power VHF, 45W output power UHF
Powerful, front-mounted speaker with 4W audio output
Lone worker function requires a response from the operator
Scanning setting is dependent on operating channel
Compatible with IC-F3021/F4021 series handheld radios
MDC 1200 compatible with the following built-in features
PTT ID (TX/RX) Radio check (RX)
Call for Company Discount Pricing